If you like the idea of a family fun getaway in the beautiful Shenandoah Valley, consider camping at Glen Maury Park. We have sites that range from primitive to full water, sewer, and electric hookups.
Perfect for your next adventure, our tent camping sites are nestled along the Maury River with easy access to our trail system.
Our RV sites include wooded areas as well as event camping that will place you in the middle of the action.
Our campground is host to music events and outdoor activities from Spring to Fall. With easy access to the river, trails, and the great outdoors, Glen Maury Park is the place you and your family will remember for years to come.
All sites are first come, first serve. Camping rates for Glen Maury Park are listed below.
We do not currently offer online reservations. For additional information, please contact the Park Office at (540) 261-7321.
Rates
Non-Resident Rates
Water, Electric & Sewer Hookups* -

$40/night

Water & Electric Only (No Sewer) -

$35/night

Tent (No Hookup) -

$25/night

Monthly Camping** -

$450
BV Resident Rates
Water, Electric & Sewer Hookups* - $32/night
Water & Electric Only (No Sewer) - $28/night
Tents (No Hookup) - $22/night
Monthly Camping** - $373/night
Additional Rates:
Appalachian Trail Hikers - $5/night
Passport America Membership - $20/night
All Seniors (62+) receive a $1.00 discount
*Full Hook-up (water, electric, and sewer) sites are in the upper campground. Large RVS tend to have trouble fitting into the upper campground. Please stay in the lower campground if this is a concern.
**Monthly camping is unavailable during the off season.
*Prices do NOT include tax*
---
Campground Rules
These Rules shall apply to all persons who enter the campground for any reason. Violations shall be cause for removal from grounds or other appropriate action. Refunds will not be given.
All campers will receive and sign a copy of these rules upon check-in. Should a camper check-in after hours, they will be responsible for reviewing rules on bulletin board and signing during office hours.
The City of Buena Vista reserves the right to update these camping rules at any time deemed necessary without notice.
The Speed Limit is 10 mph in the campground (upper and lower)
Quiet time is from 11:00 pm to 8:00 am (the city reserves the right to amend this for certain events).
Registered campers shall be responsible for the conduct of their guest at all times. Visitors must check in with the park office. You are responsible to see that your guest departs the campground before closing. No guest can remain overnight unless arrangements are made with the park office.
Buena Vista Host several events throughout the year. When camping during a week or month that has an event; you (or your guest) may be asked to pay admission, move, or remove your camper (with time being refunded or moved to another date).
The discharging of firearms, fireworks, rockets, or other explosives is prohibited (except for city-sponsored firework shows)
Parents are responsible for the actions and safety of their children
Glen Maury Park is NOT responsible for accidents or injury to guests or for loss of money, jewelry, or valuables of any kind
Marijuana use is prohibited parkwide.
Proper conduct is requested. Respect your camping neighbor. Any activity in violation of a City Code or State Statute is prohibited
Sites:

Please ensure your camper is at your assigned site.
You will be asked to move, be towed, or be charged penalties if you are on the incorrect site.
Do not move from one campsite to another or move equipment without permission.
Each camper needs to face vertically and not horizontally (unless authorization is given by the park office manager).
Campers must use only one space (additional spaces will need to be purchased)
Campsites shall be always kept neat; any plants or vegetables shall be placed behind campers and out of sight of the road; any rugs, tables, or other belongings shall be picked up weekly and removed before cutting grass.
Open fires allowed in the rally field ONLY if inside a fire ring. Do not burn trash.
Campers are held responsible for any damages to campsites or other park property
There shall be no washing of cars or campers
Do not park cars on the grass or in other sites that are not assigned to you
No oil changes or repairs shall be done unless approved by management
Tent camping shall be limited to a maximum of 2 weeks
Virginia Law (Code 32-6, State Health Department) prohibits the dumping of sink and shower waste onto the ground. This prohibition will be strictly enforced in this campground. Facilities are provided for this purpose
Campers are required to leave their campsite in clean/ safe condition upon checking out

Pets:

Must be kept with the owner, in the camper, on a leash at all times
All pet droppings must be picked up and placed in the trash receptacle
Cannot be left unattended in/or around the camper
Pets are not allowed at the pool, inside bathrooms, any pavilions, or covered shelters
Excessive barking pets are not tolerated at any time (see office for a list of local kennels)

Golf carts:

Shall be operated by licensed drivers only (no underage drivers will be allowed at any time)
Liability insurance required
No more people are allowed on golf carts than the seating that is provided. No racing of golf carts allowed (at any time), drivers must observe the safety and welfare of fellow campers (anyone drinking, and driving could face charges)

Alcoholic Beverages:

Shall not be consumed outside the site area
No open cans or bottles are allowed on roadways, pools, recreational areas, or other public areas
All persons must be 21 years old to possess or use alcoholic beverages
By signing this, you understand these rules and recognize that adherence to these policies is required. If any of these rules are broken, you understand you could be asked to leave, without refund, and/ or face any criminal charges or penalties.
---
Our Park pled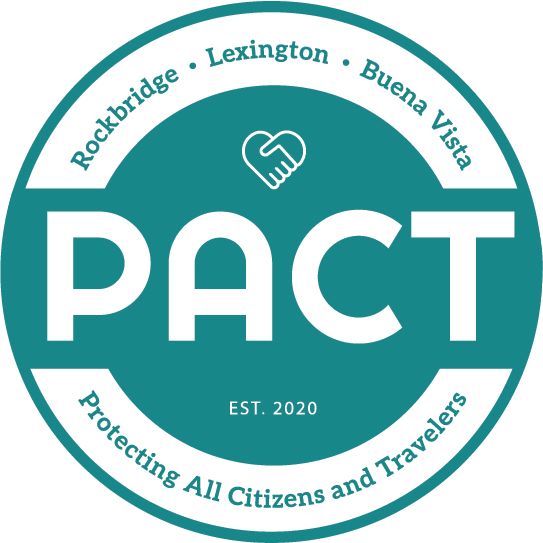 ges to provide visitors with a consistent, dependable and sustained level of safety and service while visiting Lexington, Buena Vista, and Rockbridge County. The pool and campground are taking on extra cleaning and social distancing measures to ensure your safety and ours. To learn more about the PACT and other participating businesses, please visit LexingtonVirginia.com/PACT.